Torch Ginger Etlingera elatior
This is one of the most beautiful gingers I've ever seen. Grown in many tropical areas for its beauty and for food uses as well. I'm on the hunt for plants right now. This would make a fine addition to my yard.

The torch ginger or wax flower (Etlingera elatior (Jack) R.M. Smith) is believed native to Sulawesi (Celebes) and Jawa, Indonesia (Java). The plant is now grown in many tropical locations both for the extravagant 'flowers' and for food. In Malaysia, it is called kantan. The peduncles (stems) of the inflorescence are chopped and added to laksa pots (various curries or soups made with rice noodles).

excerpt from
Plant of the Week 09/01/2003: Torch Ginger (Etlingera elatior)



Jacaranda cuspidifolia

One of the beautiful tropical flowering trees grown at Fairchild. Jacaranda is grown in all tropical areas for its amazing displays of purple/blue flowers. These picture were taken at Fairchild's 'Tropical Flowering Tree Sale' which coincidently falls on my Moms birthday and Mothers Day so we went together. I picked up a Jacaranda jasminoides (see illustration) and planted it in the front yard in her honor! ~=)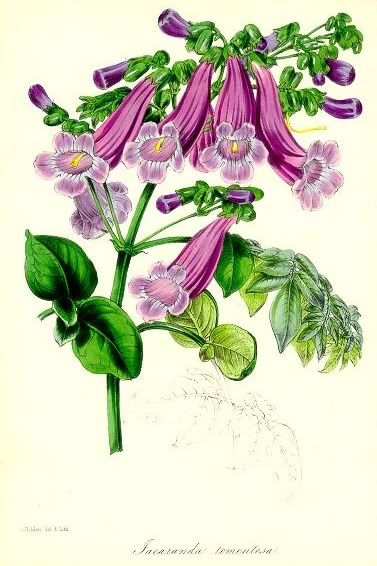 http://commons.wikimedia.org/wiki/Jacaranda_jasminoides

Jacaranda cuspidifolia is native to dry savannahs from Brazil to northern Argentina. The flowers, leaflets, and seed pods are slightly larger than those of the commonly grown J. mimosifolia. First introduced in 1988, this species blooms beautifully in our subtropical, seasonally wet climate of South Florida. Although it grows to the same size, J. cuspidifolia blooms at an earlier age than J. mimosifolia, sometimes within two years of planting. This species will grow best in a sunny, well-drained location. Once established, it does not need irrigation.
excerpt from
http://www.fairchildgarden.org



Plumeria 'Singapore Dwarf Pink'
This is a small Plumeria hybrid with beautiful clumps of small flowers on a relatively small tree. It has smaller than normal leaves as well. I'm sure it would do wonderfully in a container. These plants can grow out of the face of a cliff! I hope I can pick one up at this years members sale which is in fall.




Grammatophyllum scriptum 'Leopard'
This is a large orchid this particular clump is huge. I grow this species although it's not this variety 'Leopard' I hope mine gets as large as the one here! For some odd reason the one I have the flowers don't seem to open completely.




Aechmea bracteata
Speaking of huge clumps look at the size of this bromeliad every time I come to Fairchild I find new things and totally amazed at the diversity of plants and nature! Remember, my northern friends everything pictured here is growing outside!




Timbo Enterolobium contortisiliquum
One of Fairchild's huge rain forest trees simply amazing. With mom in the picture for scale. She likes to tag along if I'm girlfriend-less. Which has been alot lately ha-hah!




Great Egret Ardea alba
This guy was just hangin' around he didn't seem to scared of me. I guess he's used to they stupid humans!!!


The Great Egret Ardea alba, also known as the Great White Egret, White Heron, or Common Egret, is a wading egret, found in most of the tropical and warmer temperate parts of the world, although it is very local in southern Europe and Asia. It is called Kōtuku in New Zealand. It is sometimes confused with the Great White Heron in Florida, which is a white morph of the Great Blue Heron.

excerpt from
The Great Egret Ardea alba




Photos of Fairchild Tropical Botanic Garden by Eric Bronson is licensed under a Creative Commons Attribution-Noncommercial-No Derivative Works 3.0 United States License.
Based on a work at www.flickr.com